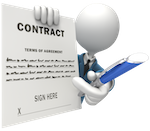 I received a request this week from a sales executive who wanted to know what he can give his field sales managers to help them do a better job of hiring. He was looking for the magic bullet "Do this and all your problems go away!" I wish it existed.
The best solution is to adopt a hiring model (like my Selecting Winners program), and have it proliferate throughout your organization. Without a model you are flying blind.
A consistent methodology and language when hiring is absolutely essential if you are going to get it right. If everyone in your organization is "doing there own thing" your probability of making hiring mistakes goes up astronomically.
Here's an example. Two people interview the same person and agree the person has good presentation skills. Do they really agree? The answer lies in how each person defines presentation skills and how they apply that evaluation to the person. One person thinks if the person can just get the point across, that is good presentation skills (the easy grader). The other person wants someone who can create and deliver persuasive presentations to customers (the hard grader).
You can see from this example how ambiguity and a lack of process leads to mistakes. Common methodology and language are necessary to keep hiring mistakes to a minimum.
So my answer to the sales executive was to "get everyone on the same page". He needs to implement a process that includes a common language and methodology and make certain all of his managers are using the process. Then he can have intelligent conversations about candidates.
I have always said that any process is better than no process when it comes to hiring. There are 3 things that you need to verify before you adopt any new hiring process.
1. Is it effective? Does the methodology have a track record? Are there people similar to you that have succeeded with the process?
2. Is it easy to implement? Let's face facts, your managers are not going to use any process that requires too much work. That is just the nature of the beast.
3. Be certain the process does not put your managers in a position they are not qualified to be in. Too many models out there advise you to ask questions that require interpretation and force you to get into the candidate's head. That is not a place you want to be.
The hiring process and model you choose should pass your common-sense test. Do the tools and techniques make sense?
Of course I would like you to try y Selecting Winners tools. Please click here to learn more about our process.
As always, I welcome your comments.