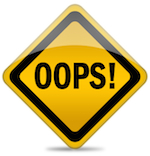 Hiring good employees gives you the best opportunity to defeat your competition. In this constantly changing market, the quality of your people is the only sustainable competitive advantage. This article identifies and will help you avoid some of the biggest hiring mistakes. But, before we jump in, a quick story.
I fielded a call this morning from a prospect who is interested in our Selecting Winners program. He runs a large insurance agency and needs to hire more than 100 salespeople this year. He asked me what I could guarantee. This is certainly a reasonable question. So, I gave him my standard answer: "By using the Selecting Winners system you will have the highest probability of hiring successful employees!"
Too often, people are looking for the "magic bullet" or some other secret when it comes to hiring. The simple truth is that there is no magic bullet or secret when it comes to choosing great employees. The answer lies in applying a proven system and using it religiously.
I will spend lots of time in future articles sharing how you can be successful in your hiring. But, you need to start by avoiding what I call the five deadly sins. So, I will spend the rest of this article reminding you of the things you should NOT do this year.
First Deadly Sin: Hiring out of desperation
None of us want to admit we hire out of desperation but, we all do it. Decisions made out of desperation are never made through a clear, well thought-out process.
Try this on for size. You have not hired for a while and now an urgent business need pops up(spelled desperation). You recruit like crazy and find a few people to talk with. The candidate is now sitting in front of you and you are thinking to yourself "if only this person is the right person then all my problems will go away". Sound familiar?
This is very dangerous thinking and leads to huge problems.
The best analogy I can give you is a story from a recent flight. It was at the end of a long business trip and of course, the plane was delayed. We were sitting on the plane on the ground waiting for some mechanical problem to be fixed. The pilot came on the PS system and said: " I know it is frustrating waiting to take off. But, it is a whole lot better being on the ground wishing you were flying than being up in the air wishing you were on the ground." Boy did that hit home.
Let's apply that to your hiring situation. It is always much better to be wishing you had the right employee on board than it is having the wrong person and wishing you hadn't.
Don't let your desperation drive you to a hasty, poorly planned hiring decision. Take a breath and remember the impact of your decision if you feel you are going to make a desperate decision.
Second Deadly Sin: Being Unprepared
Picking up the resume as the candidate walks into your office is not preparation. "I'll know it when I see it" does not work. Hiring without a completed success profile is not preparation.
Preparation is treating hiring as the most important activity necessary to grow your business. Preparation is learning to hire the right way by applying a proven process … every time.
Start by knowing what you are looking for when you hire. Identify the business problem the person is going to solve. Determine what the person has to do to satisfy that business problem. Define the knowledge, skills and behaviors the person must apply to be successful. And, prepare good solid interview questions before you walk into the interview.
Sloppy hiring decisions can be the most expensive mistakes you make in your business so take the time to do it right.
Third Deadly Sin: Missing Information
Here's a question I love to ask my clients, "Are you getting the information you need or are you getting what the candidate chooses to share with you?" As you might have guessed, these may not be the same two sets of information. You need to know, in great detail, what is important if you are going to get the right information in an interview.
In our Selecting Winners system, we use a performance-based success profile (a document that clearly describes the successful person). This document then acts as a roadmap to the exact information we need. Use this document and great interview questions and you will NOT miss important information during the interview.
Fourth Deadly Sin: Open-Ended Questions
I am sure you thinking, "What the heck is this guy talking about?" Most of the common literature on the subject of hiring recommends you should ask open-ended questions. Open-ended questions do not work, They never have worked. And, they never will work.
A quick explanation before you get too crazy. Open-ended questions are those that have multiple answers. "What is a good way to approach a sales campaign?" See, lot's of answers. The problem is that the candidate will end up telling you what they think you want to hear. This doesn't help you predict success on the job. There are so many problems with open-ended questions, I will dedicate an entire article (maybe two) to subject soon.
Instead, ask effective, behavioral questions. Ask questions that have only one answer and can be easily answered by the candidate. Ask questions that get information that will help you predict the person's behavior on your job. Ask question that don't require you to interpret the answer. "Step me through how you managed the ABC sales campaign"
The right questions are the key to an effective interview. Leave the open-ended questions to the uninformed.
PS. If anyone would like to argue this point with me – DON'T – you will not win the argument!
Fifth Deadly Sin: Jumping To Conclusions
You can't make great hiring decision after two or five minutes in an interview. Decisions made in two or five minutes are made based on impressions, not facts. It takes time to gather enough information to make an informed decision. You need to ask lots of questions. You need to probe and get complete information. This can't be done in minutes.
You can get impressions in the first few minutes but its important to train yourself not to make decisions based only on impressions. Keep working at gathering data because the more data you have, the better your better your decisions.
Remember, the more you know about a person, the easier it is to predict success on your job.
Now I could go on and list another 20-25 sins but this should give you enough to get the year started. Put the same effort into your hiring decisions that you do in all your other critical business decisions and you will be just fine.